SINGLE ENTRANTS TO OL/DL CAMP(not part of a team) PLEASE USE THE FOLLOWING PROCESS TO REGISTER.
1. Choose REGISTER for the camp(s) you want to attend
2. Click REGISTER AS PLAYER
3. Select SINGLE ENTRANTS OL/DL
4. Password is 2019canescamp
5. Follow the instructions to complete registration
PLEASE NOTE: The OL/DL portion of this camp will start at approximately 9:15 and conclude with lunch at approximately 11:30am. This will allow any OL/DL participants to depart with their 7on7 team as they are eliminated from the tournament in the afternoon.
SATELLITE YOUTH CAMPS:
OPEN TO ANYONE FROM 5 YEARS OLD THROUGH RISING 8TH GRADERS (CANNOT HAVE TAKEN HIGH SCHOOL CLASSES)
COUNTY
DATE
REGISTRATION
CAMP
LOCATION
PALM BEACH
6/5/19
8:00-9:00 AM
9:00-11:00 AM
BALLPARK OF THE PALM BEACHES
BROWARD
6/12/19
8:00-9:00 AM
9:00-11:00 AM
PLANTATION PAL
MIAMI-DADE
6/12/19
5:00-6:00 PM
6:00-8:00 PM
IVES ESTATES PARK

IN PARTNERSHIP WITH THE ORANGE BOWL

MIAMI-DADE
6/19/19
8:00-9:00 AM
9:00-11:00 AM
HARRIS FIELD PARK

IN PARTNERSHIP WITH THE ORANGE BOWL
Pre-registration is closed for our satellite youth camps:
www.hurricanesports.com/youthfootballcamps
CAMPUS:
The University of Miami Hurricanes Campus is located in Coral Gables, Florida, a city known equally for its beautiful aesthetic and its proximity to the bustling and lively atmosphere of Miami. The campus itself provides a perfect combination of an intimate, small-campus environment with the diversity and opportunity of the country's biggest universities, all while maintaining a taste of signature Miami flare. Most importantly, pride for the U is ingrained throughout every corner of the campus.
THE CAROL SOFFER INDOOR PRACTICE FACILITY:
The Carol Soffer Indoor Practice Facility is one the hallmarks of the Hurricanes football program. Construction on the brand new, state of the art building was completed in 2018, and the facility itself features 75,000 square feet of high performance artificial field turf, new team film rooms, coaches' offices, and 90,000 square feet of total floor area. It's proximity to the training room, locker room, and other facilities allow for all football operations to take place efficiently and effectively. The facility has already been lauded by players and coaches alike and has set the gold standard for all athletic practice facilities in the nation.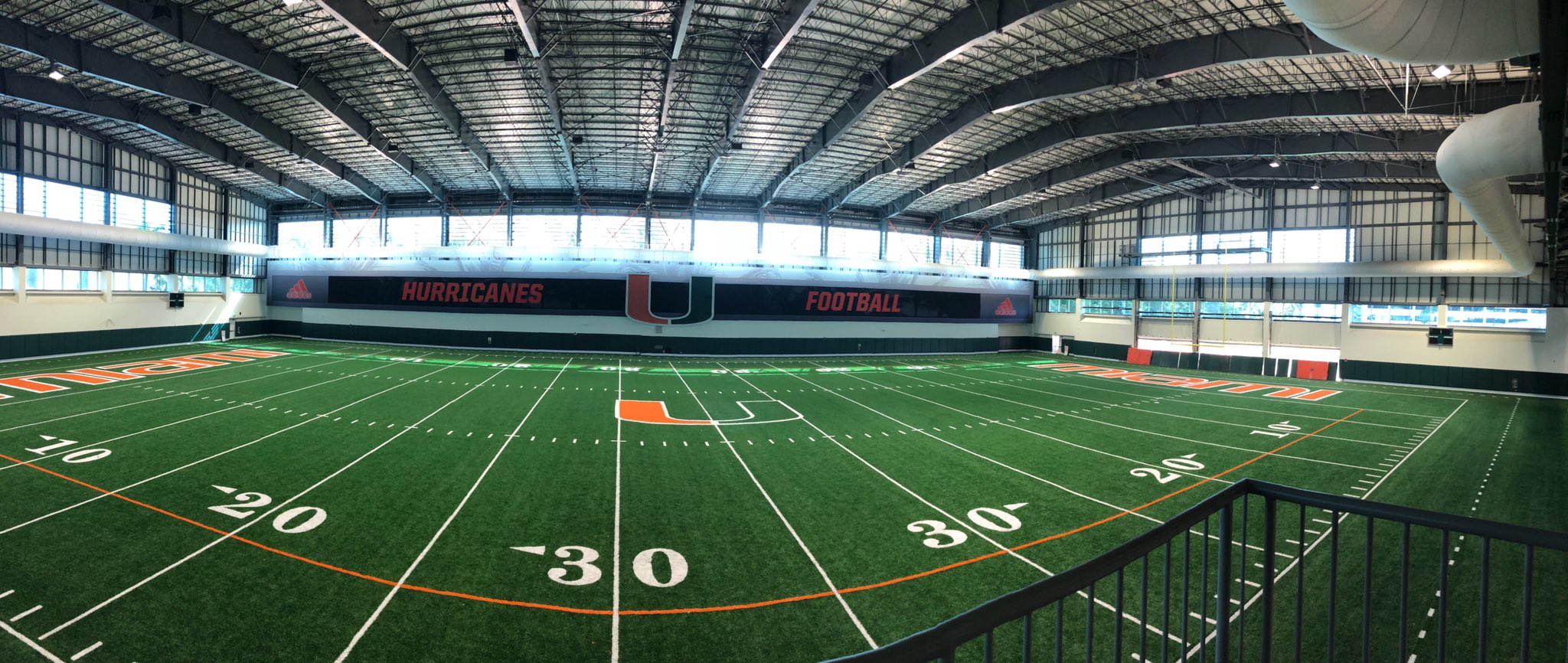 FOOTBALL ALUMNI:
The University of Miami has one of the strongest, deepest football alumni base in the country. Dubbed by some as "NFL U", Miami ranks 12th overall in all-time number of NFL draft picks with 341. Currently, there are 43 active alumni in the NFL. Our most notable alumni include Jim Kelly, Vinny Testaverde, Edgerrin James, Clinton Portis, Michael Irvin, Greg Olsen, Ed Reed, and Ray Lewis. These Miami greats can be seen around the campus and facility, constantly showing their love and support for the U.
GREENTREE PRACTICE FIELDS:
The Greentree Practice Field, located just outside the Carol Soffer Indoor Practice Facility, is where iron sharpens iron, and football players are born. Many great football players have sacrificed their blood, sweat, and tears to be able to wear the U on their chest. The field is divided into two grass, fully functioning 100-yard football fields.
MARK & JASON SQUILLANTE STRENGTH & CONDITIONING CENTER:
The Mark & Jason Squillante Strength & Conditioning Center is located in the Hecht Athletic Center, adjacent to the Carol Soffer Indoor Practice Facility. The weight room contains a complete line of free weights and muscle-specific machines. Recently renovated in 2018, the weight room is now equipped with a 40-yard stretch of turf used for conditioning.
CAMP DETAILS:
The camp objective is to teach the basic fundamentals and skills of the game of football. The Miami Coaching staff will be assisted by current Miami Hurricanes Student Athletes, coaches from Division I (BCS & FCS), II, and III Universities and Colleges. Though the backgrounds of these coaches differ, they all share one common trait; the love of football! The opportunity to work with some of the best teachers that this great game has to offer will give you the best value of any camp you will attend this summer!
Manny Diaz Football Camps are open to any and all entrants.