PROSPECT CAMPS: JUNE 14, JUNE 20, JULY 26, JULY 30
YOUTH CAMP: JUNE 19-23
The Villanova Football program is one of the premier FCS programs in the country. The Wildcats reached the pinnacle of FCS football in 2009 by winning their first ever National Championship. Villanova has reached the playoffs 12 times in its storied history. The Wildcats have three Walter Payton Award winners (the most of any FCS team in the country). In addition, Villanova has had 40 NFL Draft picks. We hope you join us at one of our Prospect Camps or Youth Camp in 2017. Tap The Rock!
The Prospect Camps are highly intense and competitive camps that are designed for advanced athletes who are searching to enhance their skills to prepare to play football beyond the high school level. Coach Mark Ferrante and the entire Villanova football staff will provide instruction for all offensive, defensive, and special teams positions. These camps will focus on position-specific skill & technique development and are non-padded, non-contact, one day camps open to athletes entering the 10th through 12th grades.
The Youth Camp is designed to teach basic fundamentals in all positions. The purpose of the camp is to enhance the camper's knowledge, skill, and appreciation of the game of football. Campers will receive instruction on both the offensive and defensive side of the ball. All campers should be prepared to work hard and most importantly, have fun. Lunch will be provided. Open to kids entering the 3rd through 8th grades.
CAMP ITINERARY (SUBJECT TO CHANGE)
JUNE 14/JUNE 20/JULY 26

PROSPECT CAMPS

JULY 30

PROSPECT CAMP

YOUTH CAMP

CHECK IN (4:00-5:00pm)

CHECK IN (11:00-12:00pm)

DROP OFF (8:30-9:00am)

WELCOME (5:15pm)

WELCOME (12:15pm)

ATTENDANCE (9:00a & 1:30p)

WARM UP / STRETCH

(5:30pm)

WARM UP / STRETCH

(12:30pm)

WARM UP / STRETCH

(9:15a & 1:45p)

SPEED INSTRUCTION

(5:45pm)

SPEED INSTRUCTION

(12:45pm)

AGILITY STATIONS

(9:30a & 2:00p)

OFFENSE INSTRUCTION

(6:30pm)

OFFENSE INSTRUCTION

(1:30pm)

OFFENSE INSTRUCTION

(10:00a & 2:30p)

DEFENSE INSTRUCTION

(7:15pm)

DEFENSE INSTRUCTION

(2:15pm)

DEFENSE INSTRUCTION

(10:30a & 3:00p)

1 ON 1 COMPETITION

(8:00pm)

1 ON 1 COMPETITION

(3:00pm)

GROUP ACTIVITY

(11:00a & 3:30p)

PICK UP (8:30pm)

PICK UP (3:30pm)

PICK UP (4:00pm)
ALL SESSIONS WILL TAKE PLACE AT VILLANOVA STADIUM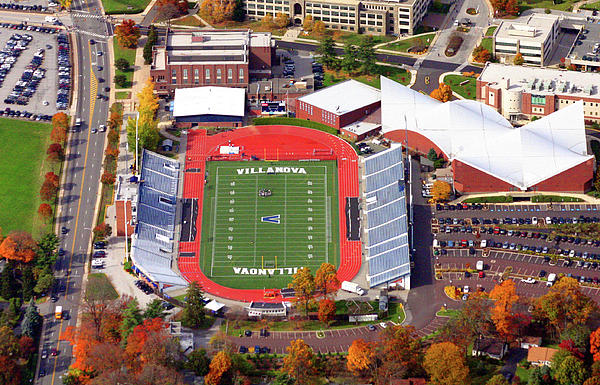 FREQUENTLY ASKED QUESTIONS
What to Bring?
PROSPECT CAMPERS do NOT need to bring any football equipment, only football cleats and sneakers. It is also recommended that you wear a pair of your high school issued shorts to help be identified.
YOUTH CAMPERS will need football cleats, sneakers, and sunscreen. Lunch will be provided. They should also bring a swimsuit and towel in case the pool is available during lunch break.
Check In?
PROSPECT CAMPERS will arrive at the designated time (listed above) in the Talley Athletic Center. It will be a rolling registration for approximately one hour. Each camp will begin once registration has concluded.
***Campers are encouraged to stagger their arrival within the first hour, as there is typically a long line at the designated check in time.
***Specialists (kickers, punters, and long snappers) are encouraged to attend the Prospect Camps. There will be designated special team periods during each camp.
YOUTH CAMPERS will check in at 8:00 a.m. on Monday, June 19 in the Talley Athletic Center. Campers can be dropped off 30 minutes prior to the start of camp (9:00am) for the remainder of the week. The final day of camp (Friday, June 23) will be a half day; pick up will be at 11:30am.
Safety & Supervision?
Every effort is made to ensure safety throughout the camp.
If lightning or severe weather is in the area, campers will be moved indoors (Talley Athletic Center or Pavilion) until the severe weather has cleared the area. The camp staff will be in contact with weather authorities to determine the practice status. The safety of our campers will be the primary consideration.
Experienced trainers and athletics training rooms are available at all times.
Family members are welcome to attend any of the camp sessions. Due to risk of injury, we ask that you observe from the bleachers.
Refund Policy?
Refunds will not be made except in the case of injury or illness or mandatory school event (minus the processing fee, which varies by camp).
ONCE THE CAMP SESSION HAS BEGUN THERE WILL BE NO REFUNDS, EXCEPT IN THE CASE OF INJURY OR ILLNESS.
***PROSPECT CAMPERS - every effort will be made to accomodate the transfer of camp sessions in the event of unforseen circumstances.
In accordance with NCAA guidelines, all Villanova Football Camps and Clinics are open to any and all entrants, limited only by specified number, age, grade level, and/or gender of its participants.